We are approaching Singapore's National Day in two weeks. And the latest hash tag photo theme challenge on @dogsofinstasg is National Day.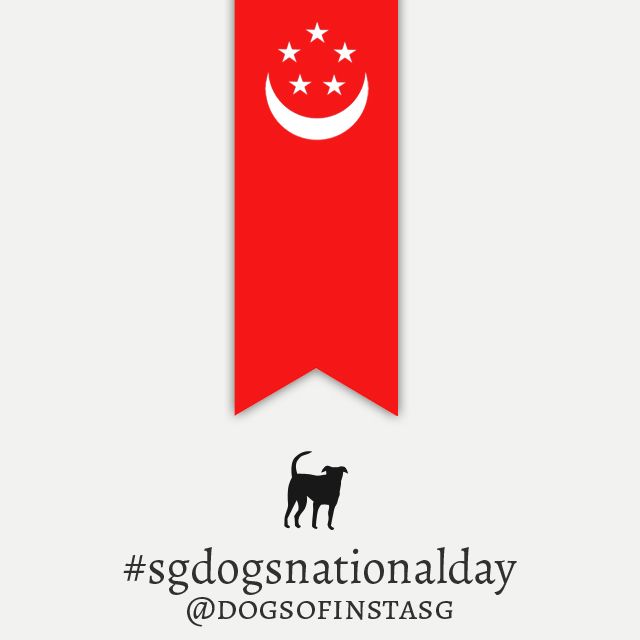 I needed some inspiration for this theme. So I thought I'll take a look at what sort of photos people have taken of their pets before.
It must be my poor searching skills because the photos I found of Singapore dogs were … well, let's just say I didn't find many. Hmmm…
Examples.
Here's Toby getting worried by the flapping buntings put up by the Town Council in anticipation of the day a week back.
And here's a couple of patriotic Singapore bunnies and celebratory dogs with a National Day cake from last year… and a random dog with a patriotic scarf (can't even see the face) from 2011.
And that's about it!
Oh man, where did my Google-mojo go?
So anyway, the good thing about the Internet is that it has no international boundaries so we can always look at our canine buddies North, South, East, West, wherever~ to get inspired!
I said Get inspired guys… 
Right, I think these two pitbulls, Lincoln and Cinnabun, probably partied too much already :P
I have to report though that American dogs seem to be generally quite patriotic. Or at least, I found quite a lot of them compared to dogs from other countries. (Did I do a thorough search? No. And not in native languages, sorry. :P)
So yes, let's get inspired!!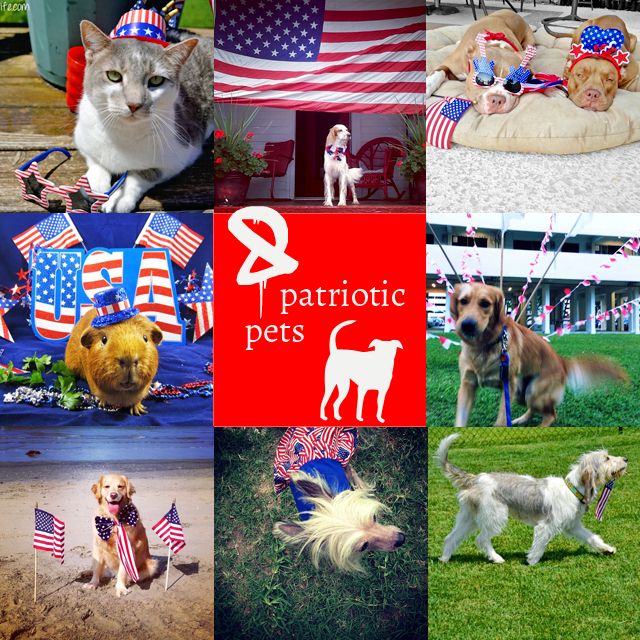 Patriotic Pets Photography
Easy method #1 – Get a flag!
Hang a flag. Stand dog beside it or behind it (even better with backlight).
Or in Millie's case, stand dog under it. ;)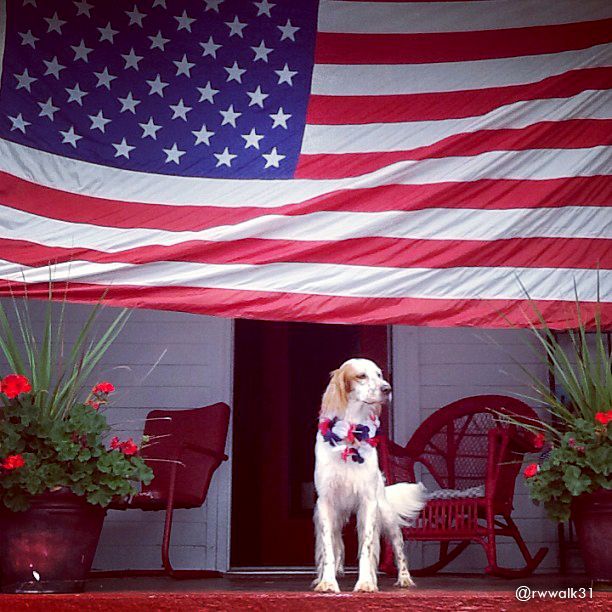 Doesn't matter if your flag is big or small. Smaller ones are versatile too. You can take them anywhere. Madison, the Golden retriever, has hers planted in the sand at the beach #justlikeNeilArmstrong and she seems pretty happy about it too. ;)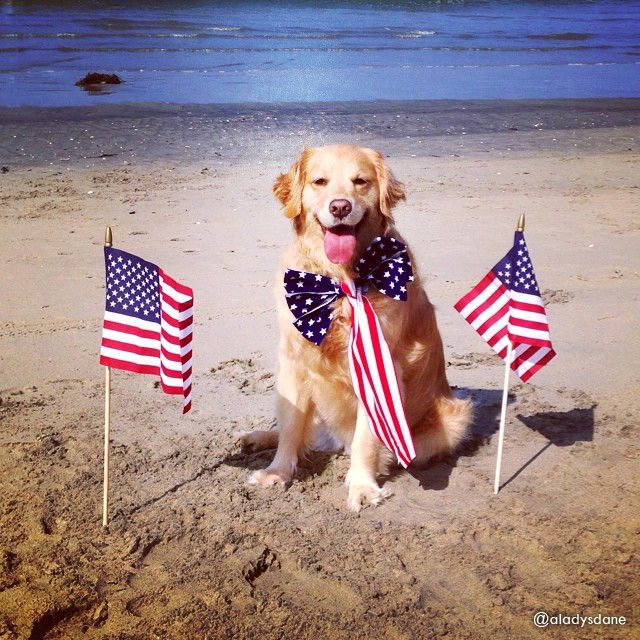 Yes, yes, here I will slip in that cliché again. How good your photos get depends on your imagination. ;)
Patriotic Pets Photography
Not so easy method #2 – Have dog hold the flag :P
So if you're like me and like to teach the dog something useful to make the photo even more interesting, why not train the dog to hold the flag?
Sticking a flag into the dog takes a bit more training. Not every dog has learnt to hold it in his/her mouth and parade around like Bailie the Grand Basset Griffon Vendeén here.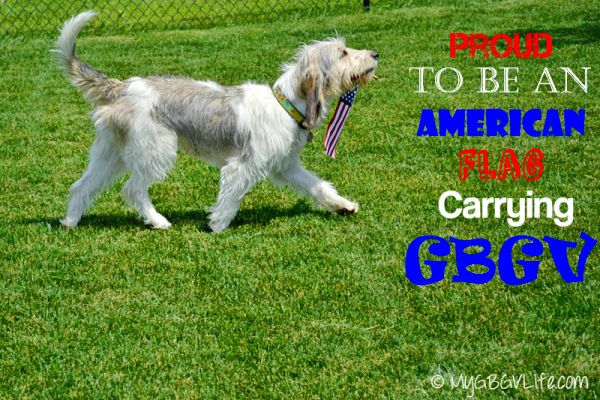 Donna certainly hasn't! But we are working on that with help from this video that Mr N the tenacious terrier shared.
Patriotic Pets Photography
Not so easy method #3 – Suit up in a patriotic costume!
And if you would like to literally stick the flag into the dog, perhaps into folds of his/her clothes. Do make sure he/she is happy to wear clothes first, or your photo wouldn't turn out nice.
Here's a worried, whale-eyed little dog with flags sticking to his back. Not a good look, sorry. More pets who hate the 4th of July here.
Speaking of clothes, these are definitely an option for a Patriotic Dog themed photo. ChaCha the Chinese Crested models a pretty frock here.
Bailie's cat bro Bert is also look spiffy with American-flag themed accessories! And of course, remember Lincoln and Cinnabun with their glasses and headband in the very first picture? Those are some pretty funky accessories as well!
If you have been having trouble getting your pet dog or cat to be happy wearing clothes or accessories, check out how we got Donna to get used to her clothes here and her doggles here.
Patriotic Pets Photography
Not so easy method #4 – Create a set/studio environment
This is the hardest for me because I am lazy…. too lazy to source, make, collect and set up props, including getting a bright enough diffused light source for indoors. But if you are up to it, the results can be amazing ;)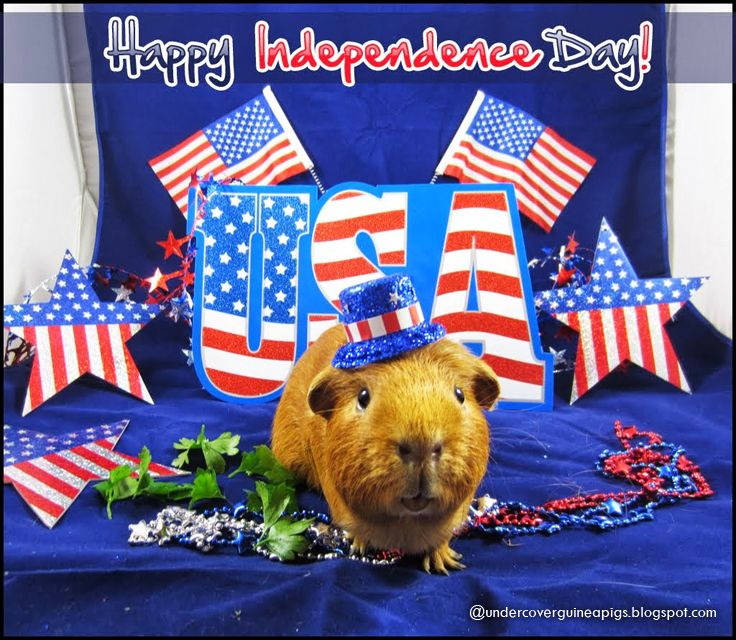 This is an undercover guinea pig… not sure what he's doing in the limelight if he's undercover… :P
 Calling Singapore dogs
With National Day around the corner, we hope we have inspired you to start thinking about taking some Singapore National Day themed photos!!
These two weeks, share your patriotic dog photos at http://instagram.com/dogsofinstasg. Nine photos will be picked for feature and one lucky photo will get a prize from our sponsor Pawmart. Details here.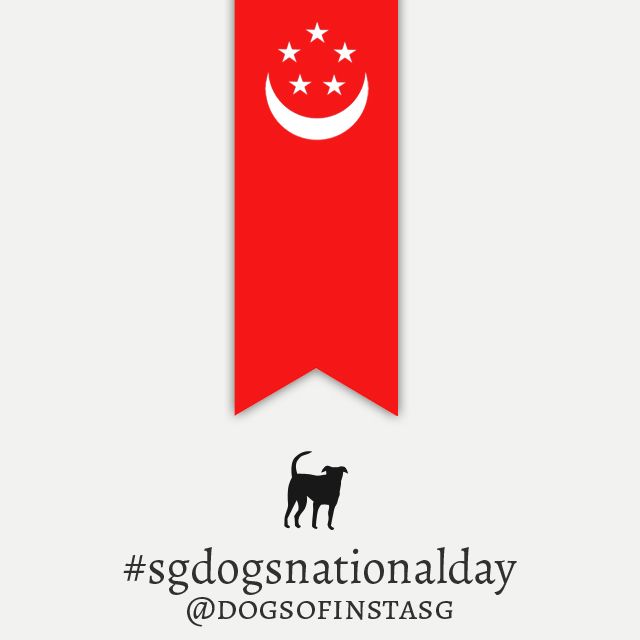 For more lovely tips on pet photography from this shameless blog, see these links!
– Point of view in pet photography
– Photographing dogs – Nomad Russ 10 tips reinvented
– … and Buzzfeed thinks these are the most patriotic dogs in America
Author's note: All pictures used with permission, credited and linked to the photographer's blogs and instagram feeds accordingly. :)