Nowadays, Donna and I often have our long walk in the night because it's cooler and Donna actually bounces along in the cool air rather than drag her legs and lag further and further behind in the warm day.
Of course, I could make myself wake up extra early when the sun hasn't risen yet and it's still cool to walk her. But considering I sometimes am still up at 3am keeping a trembling, thunder-phobic dog company… I'll say it's unlikely to happen.
Have to say though, I abhor trying to pick up poo in the dark grass in the middle of the night in the dimly lit streets. Abhor! … but I still pick it up.  
Here's some of the ways we make the walk more fun :)… and by fun, I mean injecting some variety into the walk so it doesn't get boring for me… If you don't like training, it may not be as fun for you :P
Loose Leash Walk and Run
Loose leash, as I understand it, means the dog is neither pulling the leash in front or behind the human, but is walking within the circle where the leash remains hanging loose rather than pulling tight. This of course makes it more fun for the human who doesn't need to stop every few paces to try to drag the dog along.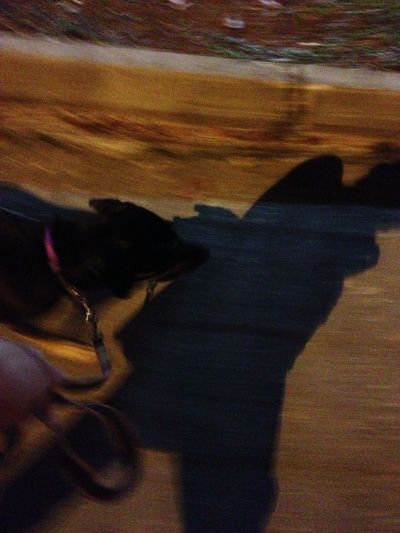 I'm not so stringent with the loose leash walking part, so Donna does feel that she is free to yo-yo to the grass and back to the pavement  sometimes :P… Depending on my mood, it can get irritating :P So I manage that by keep the leash shorter when I'm not in the mood to stand around for long waiting for her to sniff grass. 
Walking or running on a loose-leash is great for us because neither Donna nor I have the stamina to keep up with running continuously. But by alternating walking and running, hopefully we'll slowly build ourselves up to it and can run for longer distances without stopping. Like I said, the cool night breezes actually make this more enjoyable than slogging it out in our sweltering, humid climate.
There are days when I do feel that thigh and calf muscle aching, then we'll be kinder to ourselves and just practise loose-leash walking and recall (from whatever tree or grass patch that she is sniffing)
Urban Agility
Along the way, we sometimes pass benches or other structural features that Donna can hop on and run along. The benches are also handy for practising her focus in sit-stays. They function as rest breaks in between the walk-runs. :)
I tend to reward her with water, since she usually gets too hot and refuses treats. This ensures that she stays hydrated as well.
Sit-Stay and Recall
Bridges and stair-climbing gives us a work out as well. Some times I ask to her sit-stay at one end of the stairs, and then she can run up/down from there when I gave her the "come" cue. So that helps us practise recall too.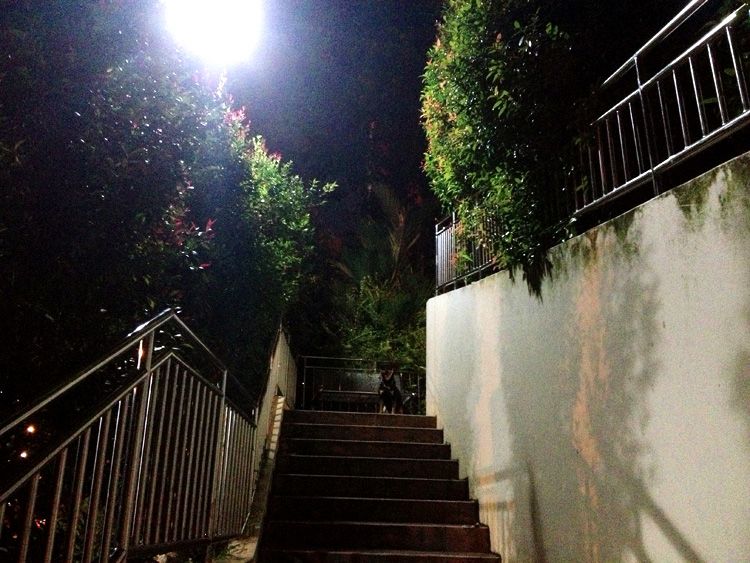 Only at deserted stairs so she doesn't give an unsuspecting passer-by who didn't see her a scare :P
Socialisation and How to Behave around Traffic
Socialisation isn't just about having dogs play together.
Socialization means learning to be part of society. – aspca
And that includes, how to behave around traffic. We practise "stop" and "let's go" at street junctions. Donna crosses the street at a speed that is a tad faster than her usual trotting speed, so she does feel some stress here. But other than that she is able to walk past cars, bicycles, people and people with other dogs fairly smoothly on a loose leash.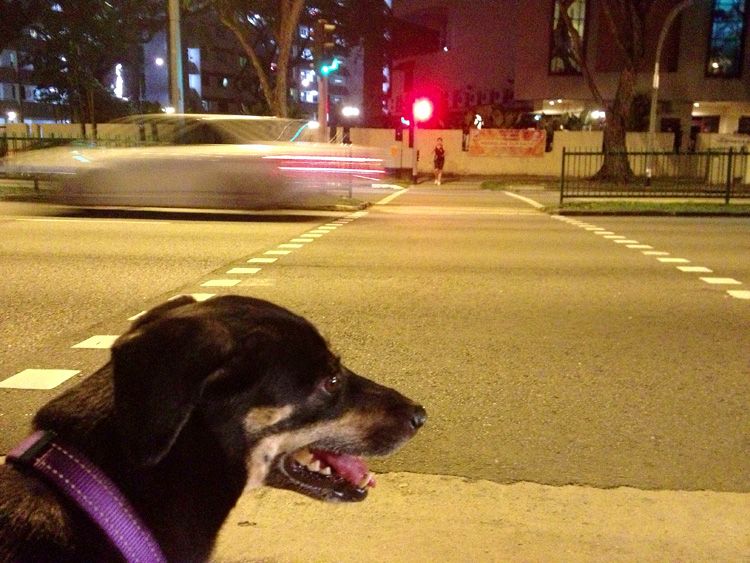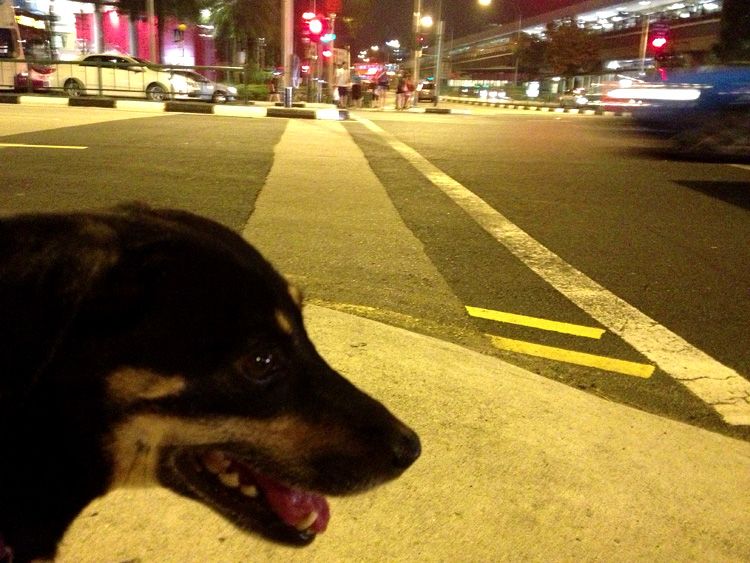 Waiting to cross the road.
There are times when we have to walk in areas with higher human traffic so she learnt to modulate her speed as we walked behind the other people.

This path lines the rail tracks, so Donna has gotten used to the train noises, although that does not really help her thunder phobia any. – –
Give dog enough time to do her own thing so she stays happy and motivated
Donna loves to take her time to sniff the grass and trees, and also to observe her surroundings. Giving her time to do this keeps that part of the brain in charge of sensory processing the sights, sounds and smells of the environment active.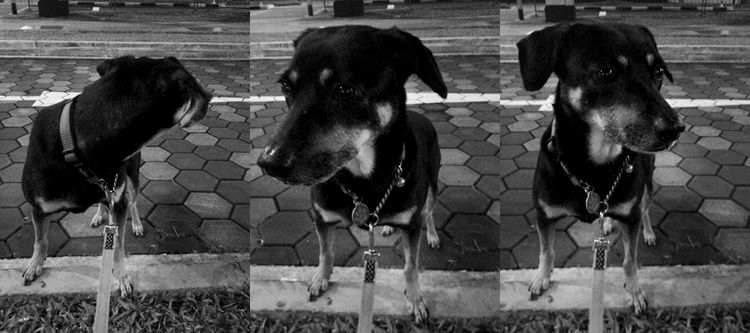 In this case, I have no idea what she sighted and kept her so interested to be standing in this spot for so long I got bored and started snapping pictures. :P
Because treating is difficult when we are moving and Donna does have a habit of refusing treats on walks, I had to find other ways of motivating her. Besides water, giving her time to "go sniff" after exemplary behaviour is also one of the ways I reward her. I don't think  that she understands that this is a reward but it does make the walk more fun for her and keeps her happy, so all good.
Other then that, I always try to give her lots of praises and happy claps… … as long as there are not too many passerbys to note the crazy woman going "good girl" and "good job"loudly in the silent night over and over again :P
We recently discovered that a nearby restaurant allows dogs in the outdoor seating. So we may just return for an evening drink or two after our walk. And Donna can take that time to rest from the walk, and given she will be tired, we probably have higher chances for setting her up for success in practicing staying by our table in an outdoor cafe setting.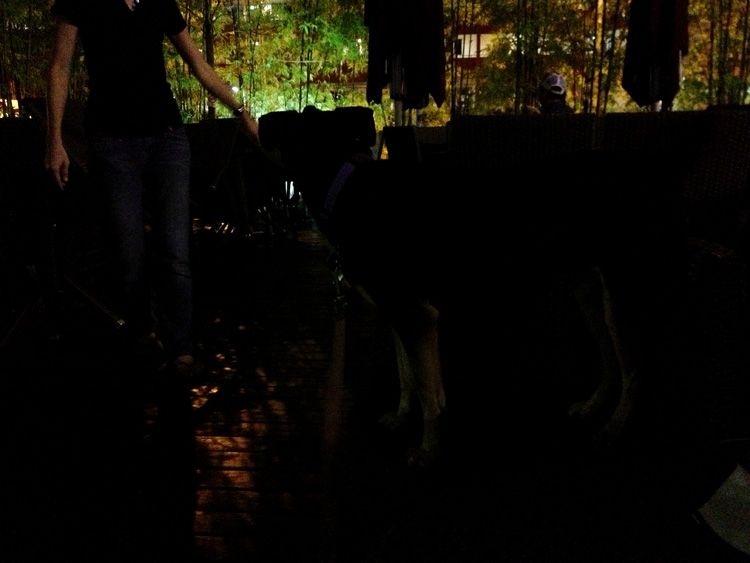 Donna has gotten pretty good at staying on chairs. She clambered up this one automatically = = 
Quality, restful sleep
And when we get back home, Donna is ready for bed, hopefully for the rest of the night, so the humans can have a peaceful night too.
Are there other things that we can do during our night walks? Feel free to let me know so we can keep these walks interesting :)