So Donna was invited to a social event recently, where she got to meet up with some new dogs and some dogs that she had met before.
Now every contact with dogs, humans, etc is a socialisation event. But the quality of socialisation differs.
You know, what they say for humans – the first impression is most important.
The same may be said for dogs.
If dog gets a good time, he starts to associate positive feelings to the dogs and humans he met. That is good socialisation.
If dog gets a bad time, he associates negative feelings to the dogs and humans he met. And that is bad socialisation.
None of us want a badly socialised dog. And yet, it is not uncommon to see dog owners who take the dog out to places and then let the dog run around by themselves, seemingly not caring if the dog is having a good time or not, and they call it socialisation.
Donna is my dog, so whatever event I take her to, her welfare is my first priority. Therefore, I follow her almost everywhere she runs and track her activities with the other dogs. I distract her by calling her to me when she starts displaying actions that I do not want reinforced. That is what I feel I need to do as a responsible owner.
They say love me, love my dog. But I had always thought it was a little extreme for people to judge others who are not dog lovers.
But you know what, I do that too in my own way. Guilty, as charged.
Case in point, my dog Donna, here. She has been kindly described by Vanessa of therufusway, as having "such a kind look in her eyes" for this photo on our Instagram account.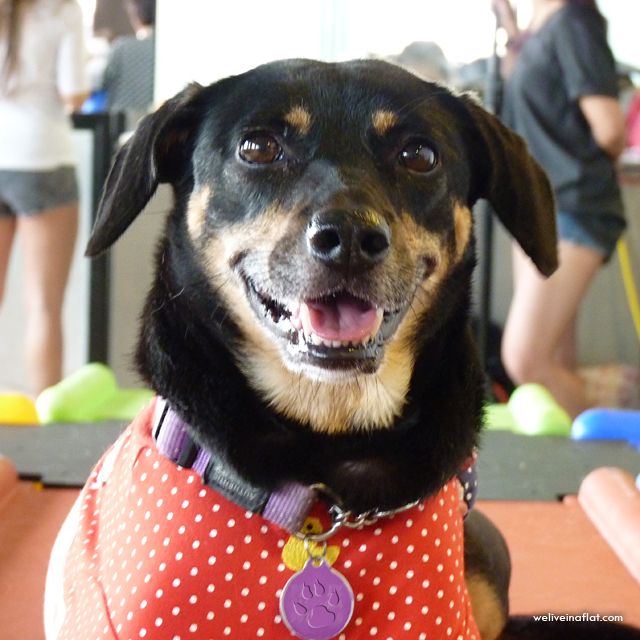 But the truth is, there were two to three episodes in that session in this environment the photo was taken, where she was tense and growling at another dog. She certainly did not have a kind look in her eyes then.
Now it can be equally stressful for the human, given the circumstances. A roomful of humans and dogs underfoot, all socialising nicely and then your dog starts growling at the other dog.
Correct me if I'm wrong, but it's probably not uncommon for most people to jump to the conclusion that the one growling is at fault. Especially when it involves a bigger dog growling at a smaller one.
Mr P also pointed out that I always hastily pull Donna away, which also painted a rather guilty picture.
But you know what? There is nothing else I can do.
A growling dog… is NOT a bad dog.
A growling dog… is NOT an aggressive dog.
A growling dog… is NOT a vindictive dog who remembers past grudges.
A growling dog is being nice by growling to let a human or another dog know that they are making him uncomfortable. That they should back off and give the growling dog more space.
A well-socialised dog would recognise this verbal cue. Perhaps before it escalates into a verbal cue, they would have noted the more subtle behavioural cues like looking away, moving away, not engaging with you and not showing playful behaviours.
One of the incidents occurred while I was squatting down and next to Donna and Donna started growling. The other dog, instead of moving away, came closer and started rubbing against her. And Donna growled even more.
So what was I to do. I did what I had to do. I pulled Donna away.
My first commitment was to her. She was tense and verbalised it. If I don't remove her, I'm just allowing her stress to build.
There is a quote floating about the Internet by Suzanne Clothier – "One of the quickest ways to get your dog not to trust you is to keep over riding your dog telling you he does not feel safe."
*I can't find the exact instance where she said this, but it does sound like something she would say. :P
So yah, I'm not about to do that. I'm not about to let the growling be reinforced time and time again by a dog who didn't seem to recognise or care about the other dog's cues and perhaps eventually allow it to escalate into a bite. I'm not.
And honestly, I would worry about the little dog if this is a frequent behaviour for him. Not every dog would be so nice to give a verbal warning first.
Some would snap without warning because they got scolded time and time again when they growl, and they've learnt to repress the growling.
Unfortunately, I found I had to keep calling Donna away from the trigger after that. And I started feeling rather haunted by the smaller dog. He's everywhere! Hahaha!
At least I heeded my own advise from the last experience, and put Donna on the lead despite all the other dogs getting the freedom to play. I was too tired trying to track both dogs to make sure they were separate, and I could no longer supervise effectively which led to repeated incidents.
It's not Donna's fault. It's just that the environment that day was not conducive for her to socialise in a positive manner.
I am glad she did at least kindle a budding friendship with Lexie. Lexie is a young dog, so she can be rather unsure about dogs she is not too familiar with and she needs her space. That's normal. She shows some behaviour like moving away from Donna and jumping onto the doggie playground, perhaps when Donna got too much for her.
And I'm glad that her human thinks that Donna was respecting Lexie's body language. Donna was sitting, not moving further into her space. Donna was looking directly at her at times, but she also looked away and turned around and looked at me once. She sat and perhaps patiently waited for Lexie to be comfortable to play. Or at least I like to think so. Hah! They did seem to be playing a little at times :P
On hindsight, a video would have been better to study their interaction. :P It was a highly distracting environment for me too. Haha!
Note: Donna used to be labelled as dog-aggressive at the shelter she was from. I'm inclined to think the label was just that – a label. Donna has never shown any growling/snarling/snapping behaviour to any dog she has met outside the shelter since we adopted her, with the exception of this small dog.  Her body language has always tended more towards being fearful, rather than aggressive. If you have a dog who reacts to other dogs in an "aggressive" manner, I strongly urge you to learn to read dog body language and their behaviour and consult with a positive trainer on the best course forward for your dog.
And of course, do supervise your dog so that he learns to respect cues from other dogs. Please don't expect other dogs/humans to teach your dog. This post from Barbara of Goodog Positive Dog Training in Australia sums it up rather well.
I offended a fellow dog owner today. My dog was playing with her doggie friends in one of the enclosed areas at St Ives Showground and she let her exuberant 8 months old teenage dog jump right into Shellbe's face. When Shellbe growled, she said: 'That is ok, my dog needs to learn some manners.'
I told her in no uncertain terms that I did not want my dog to have to teach her dog manners. The times when we let them sort it out are well and truly gone and owners have to mange and train their dogs and not rely on other well socialised dogs to teach their unruly teenagers.
Even a well socialised dog can become stressed and growly when exposed too many times to under socialised and rude dogs.
– https://www.facebook.com/permalink.php?story_fbid=805403872813598&id=164212460266079