Our food rating: 🍗🍗🍗
We happened to be in Punggol and decided to check out the dinner scene at the Punggol Tebing Lane Container Park. There are a reported 7 container cafes there. But at the time of visit – around 5.30pm on Sunday – some were not ready for business yet.
We decided to try out Big Fish Small Fish which is located in the middle of the row of container cafes.
Big Fish Small Fish at Punggol Tebing Lane Container Park
Address: 50 Punggol East #01-K35 Singapore 828826
Opening hours: Sunday to Thursday 12pm – 12am; Friday, Saturday and Eve of Public Holiday 12pm – 1am
Contact: Facebook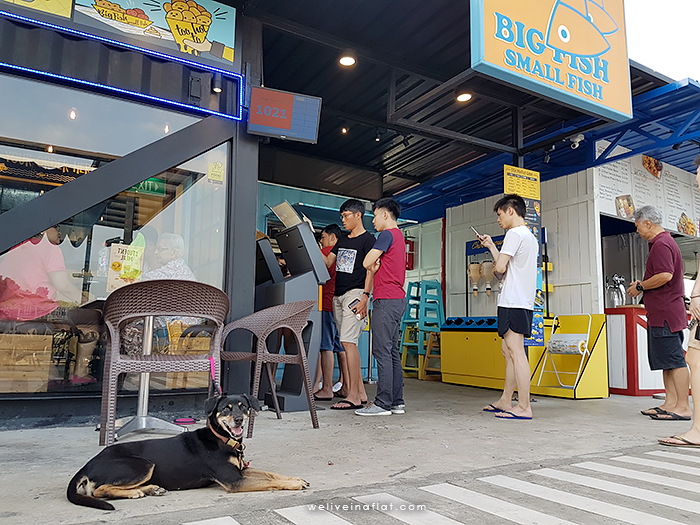 Self-service ordering and food collection
Big Fish Small Fish offers a self-ordering system via their kiosks. You can see in the photo above that there is some small queue forming. The screen above the kiosks announces the queue number when the food is ready to be collected. You can also order and pay at the counter. The food is to be collected inside the air-conditioned container cafe.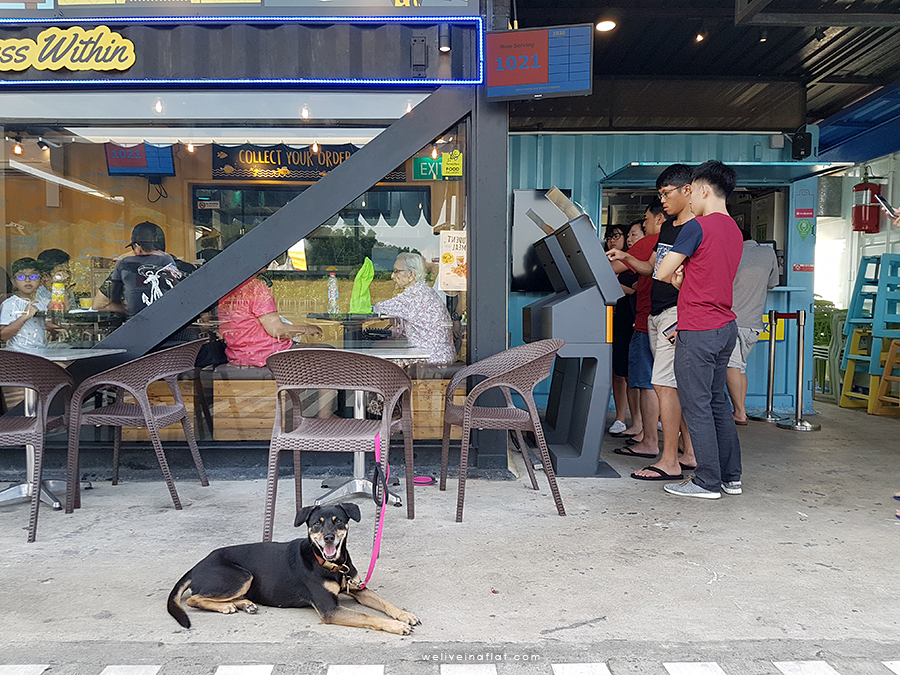 This means your dog needs to be comfortable staying by herself while you're ordering and collecting, or you need to visit with another person so someone looks after the dog.
Big Fish Small Fish Fish & Chips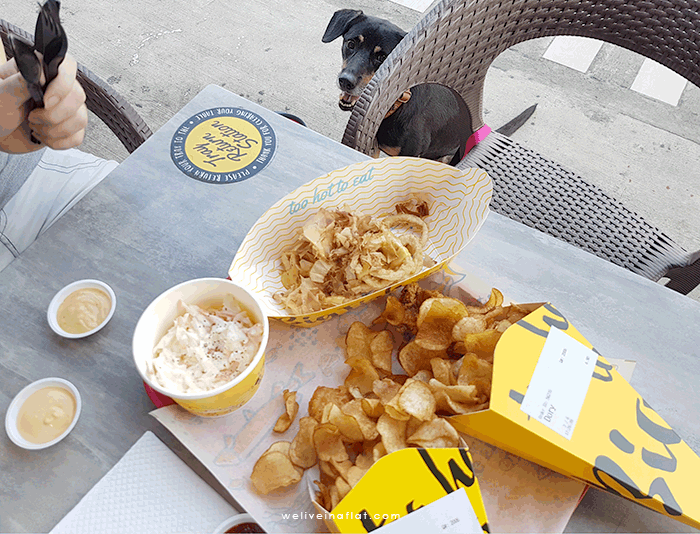 Big Fish Small Fish offers battered fish and chips served in a yellow triangular pocket so it's actually possible to takeaway and eat as you walk, I think.
The selection of fish to choose from include – dory, tilapia, sea bass, salmon and arrowtooth flounder – in order of least expensive ($6.90) to most expensive ($14.90). We also ordered a bowl of coleslaw and salted egg yolk calamari with bonito flakes.
We love that the sauces are self-service at no extra charge. There's cheese and salted egg yolk sauce on top of your regular chilli and ketchup.
But to be honest, because it was such a hot day, I enjoyed the coleslaw the most out of everything on the table. HAHAHA!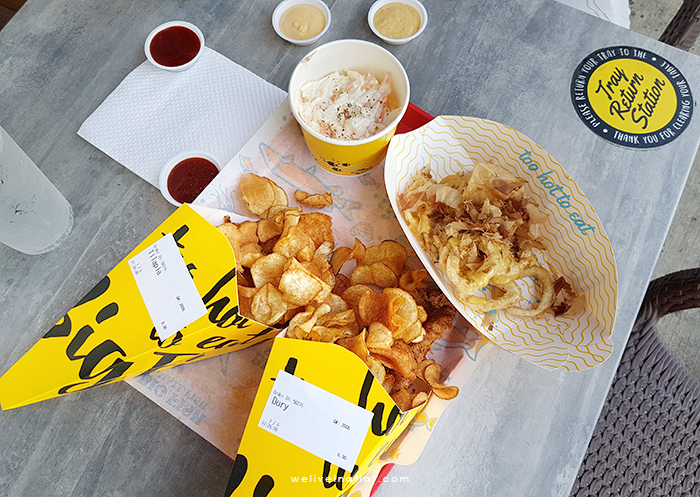 Big Fish Small Fish's full menu can be viewed on their website here.
Seating at Punggol Tebing Lane Container Park
There's actually quite a bit of dog-friendly outdoor seating available opposite of the container cafe. But we decided to sit at the single tables by the wall of the container cafe for two reasons.
One/ At 5.30pm the sun was at a low angle and shining directly on the outdoor seating area, despite the awnings overhead the tables and chairs. The single tables by the wall of the container cafe were shaded by the container itself, so it just seemed cooler and more comfortable to sit there.
Two/ There was just more floor area for Donna to spread herself out at the single tables. The tables in the main outdoor seating area were packed more tightly which meant there was less space for her on the floor without getting into other people's way.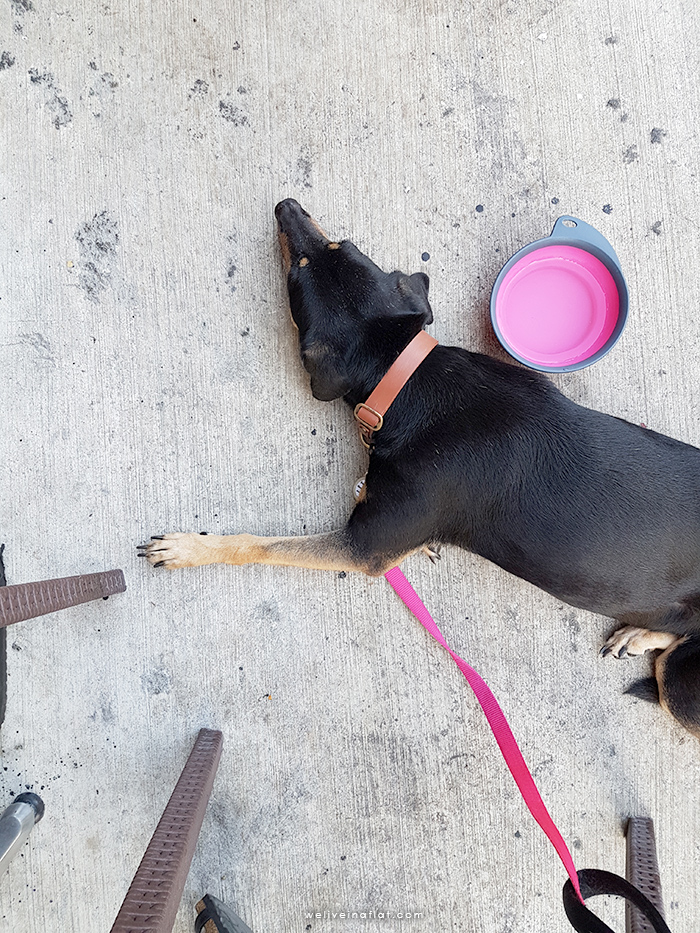 Yes, my dog is sprawled out like she owns the place. 😅
---
Come :) Follow weliveinaflat.com on
Instagram @weliveinaflat |  Facebook donna.weliveinaflat |  Youtube Mutt Vlog