1 Day 1 World Project: Donna at 6:00pm – 7:00pm (last week)
So we were taking an evening walk in the park, when I saw this cat sitting on the stool.
And I thought- wouldn't it be cool if I have Donna sit on the other stool for a photo that says: "Hey, Donna is a cat!"
So I led Donna to the empty stool and have her hop on it and do a sit-stay.
By pure luck, that cat just stayed there. She didn't run away.
Rather, she appeared to be analysing if this was a threatening situation.
As she stared at me, I quickly snapped just two shots. And what luck, I got both of them looking straight ahead in one!
And then I noticed this little paper tray sitting on the table. So I moved to remove it, and that's when the cat snapped out of its assessing mode.
She hopped off and on to the other stool next to Donna and started to do the strangest thing.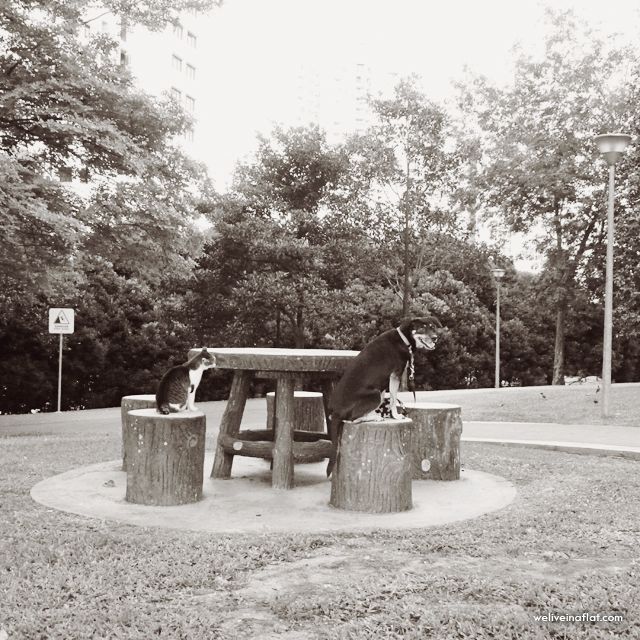 Why are you leaving me here alone with her, human?
She started to rub against the park table non-stop!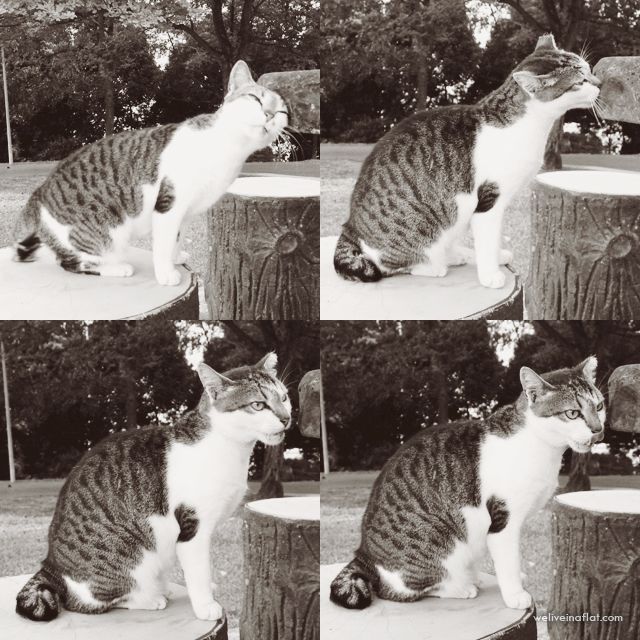 Rub… rub… rub…
I was surprised by how the cat kept rubbing the table the whole time we were there. In fact, after a while I became concerned because I remember this article floating around about head pressing being a sign of a neurological disorder!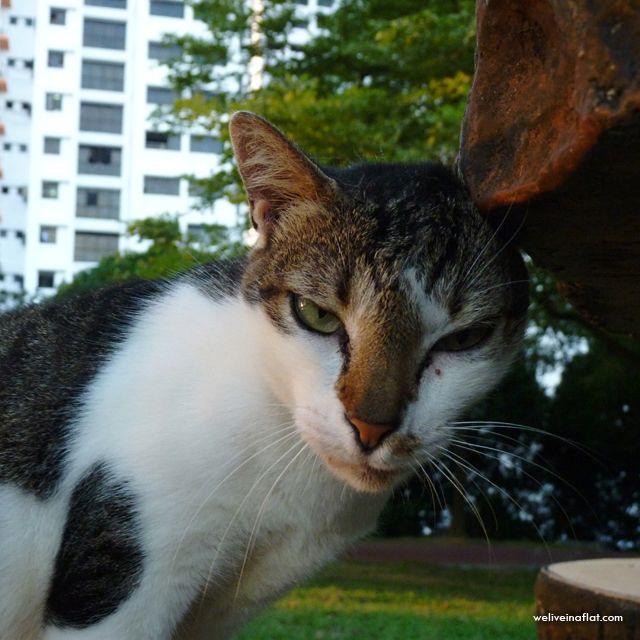 Pause… Looked at me…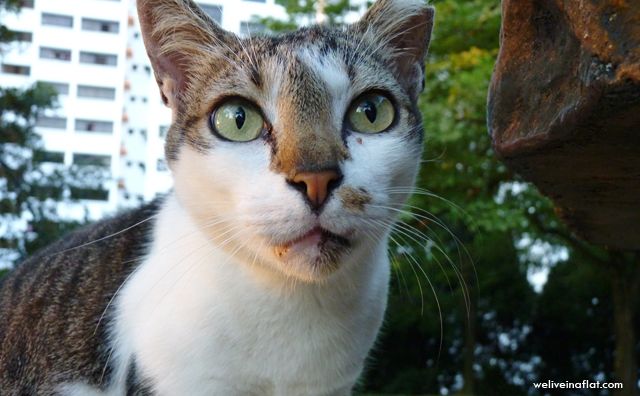 Looked at Donna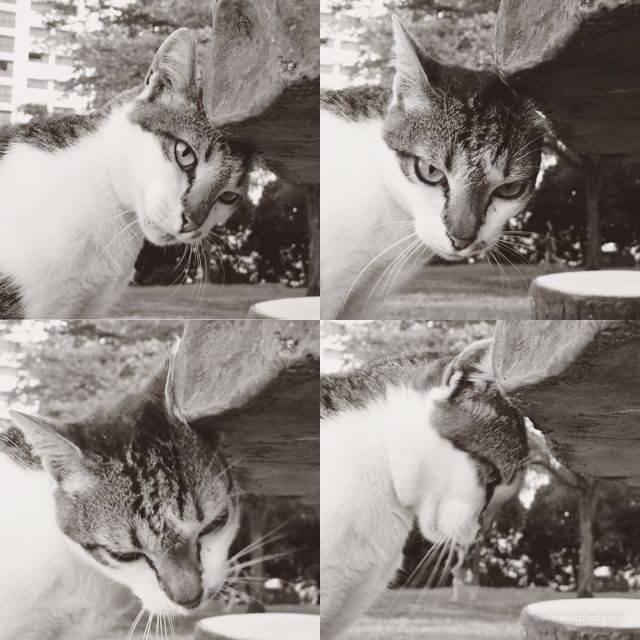 Rub… rub… rub…
It was only when I came home and Googled that I found possible reasons to her behaviour. At first I thought that this cat might have been trying to be assert her territorial rights to the table to us!
 Cats rub their heads (bunting) against prominent objects to leave scent markings as a part of scent communication. – cats.about.com

This is my table… this is my table… this is my table…. this is my table… this is my table…
But then I found that perhaps the rubbing is the cat's way of coping with the stress of having the dog and human in its space.
Cats are equipped with glands, located on the forehead, lips, front paws, and on their flanks and rears, that secrete pheromones. Pheromones secreted by glands on the face seem to have a calming effect on cats. When cats rub their faces on various objects they leave their scent, which is reassuring to the cat and non-offensive to humans. – petplace.com
I obviously am clueless about cat behaviour, what do you think?
For 24 weeks, weliveinaflat will post photos taken for a specific hour in that week.
We will cover 24 hours in 24 weeks. (I've no idea how we will do the sleeping hours, lol!)
More about the 1 Day 1 World Project here.